We're All in this Together: HSM's Bart Johnson has Thanksgiving with Fans
Bart Johnson, better known as Troy Bolton's (Zac Efron) dad and everyone's favorite basketball coach, Coach Bolton, from the High School Musical (HSM) movies, took time out of his day, today, to spend Thanksgiving with some Wildcats all around the world.  
Bart took to Instagram Live, at around noon, Mountain Standard Time, from his wife, Robyn Lively's (Blake Lively's sister), family cabin, in Utah, to sit and share Thanksgiving with all who tuned in.
"I heard about how many people are having Thanksgiving alone today, alone, because of COVID and all the craziness that's going on, and how hard it is, and what a bad idea it is to get together for a lot of people under these circumstances. Twenty-twenty, man; 2020. It's freakin' bananas," said Bart. "No one's gonna have Thanksgiving alone on old Coach's watch. So, we're gonna have Thanksgiving together!" 
And that, he sure did!
For the next two hours, Bart sat out in about 25° weather, chatting it up with close to 200 viewers from countries such as Mexico, Cuba, Germany, England, Belgium, The Bahamas, the US and more, about his love for fans recognizing him from HSM, how important it is to strengthen one's immune system during the pandemic and how important it is now more than ever to give thanks for all that one has.
Fans were glued to their screens as Bart showed them the lovely scenery from his balcony that was filled with snow, mountains, a cabin below that resembled a gingerbread house, and props from the Pirates of the Caribbean franchise, such as a crate and cannon balls. 
As viewership grew, Bart constantly reminded newcomers of his reason for being on Live, which was to make sure that anyone who was spending Thanksgiving alone, due to travel restrictions and social distancing mandates, could at least spend part of their holiday with him and the many other fans tuned in. 
Bart started out by eating an apple, which he pegged as his favorite fruit, due to all its vitamin C, then started making himself a peanut butter and jelly sandwich. However, it was his need for a knife that brought a sense of comedy, adventure (and anticipation) to the live, as fans, including myself, thought we would get a sneak peek of the Lively Family. 
While we didn't, we did get to watch him clean the knife at the sink and we were graced with multiple appearances by the family dog, Bucky.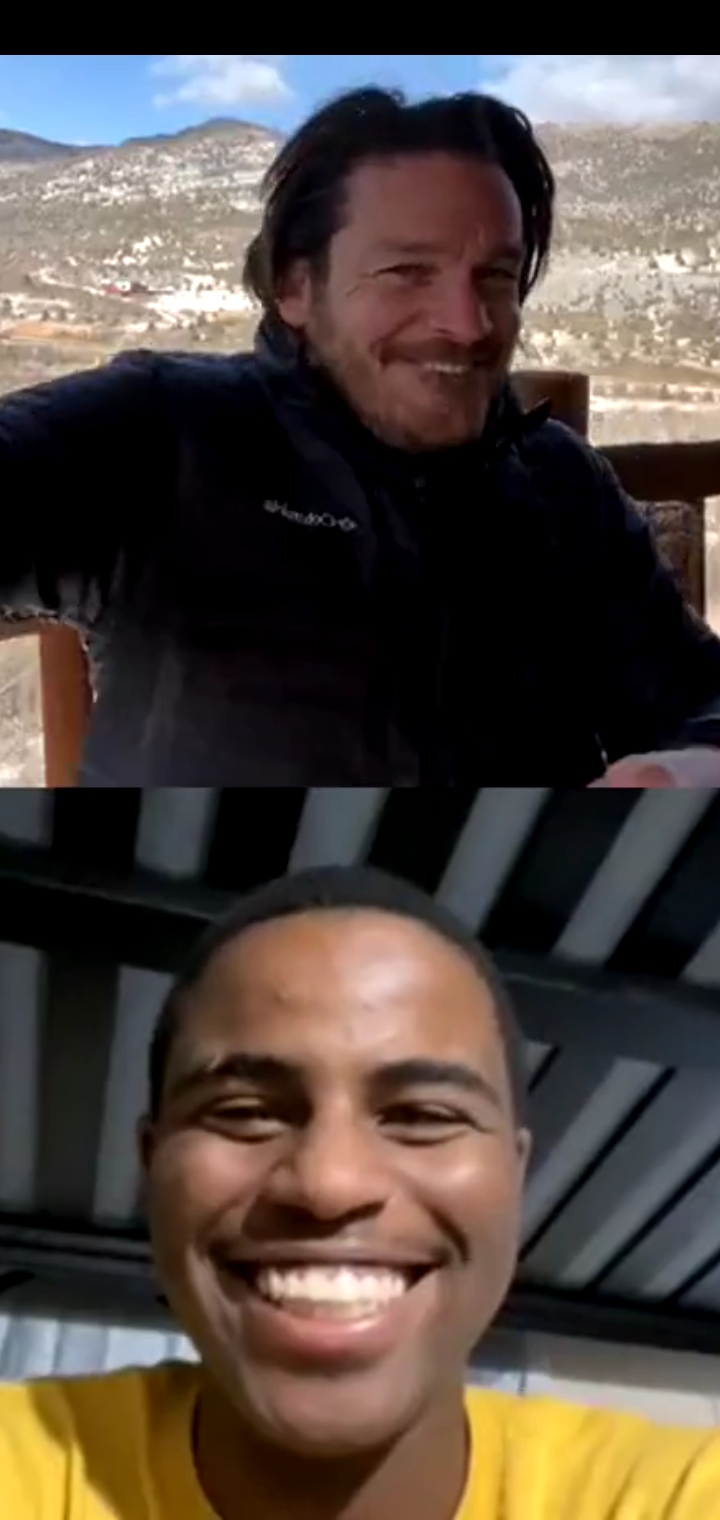 However, when Bart extended an invitation for viewers to join his Live, it was one viewer in particular, IG user "craig_allen_jr", who, after about three failed attempts at connecting, finally connected and brought Bart to tears with his message of thanks, gratitude and appreciation for Bart's Lives throughout quarantine, that kept him going. 
"...During quarantine, I enjoyed just sitting here listening to you talking and talking to the people who watch your movies and all of your things. So, I really appreciate that," said Craig. "I'm thankful for people like you who helped us get through all of this quarantine stuff. Twenty-twenty sucked but with people like you and our friends and family, we've been able to get through this stuff. So, thank you."

As if that wasn't enough to make Bart misty-eyed, Craig took things further by asking Bart what he was thankful for-- a break from Bart asking his fans what they are thankful for. 
Taking a solemn moment, Bart reflected on how thankful he is for his family, his children, his health and his fans, like Craig, who spread joy and love and put smiles on people's faces. 
"That was pretty incredible," said Bart through tears about Craig's message. "I don't know how you can get better than that. Craig's the best. That was amazing! Usually, if I can't get someone, I just go to someone else. But, for whatever reason, it felt like we needed to connect with Craig."
Craig, along with a few others who were invited onto the Live from cities like London, Rhode Island and Los Angeles, unexpectedly made Bart's day. But, it was Bart's thoughtfulness and dedication to make sure that whoever tuned in to watch his Live, had at least two hours' worth of joy and togetherness on Thanksgiving Day, especially if they had to spend it alone. 
In the words of High School Musical, "we're all in this together," and Bart proved that today by giving a little of himself and his time to those who probably didn't realize how much they truly needed it.
So, from all of us, thank you Bart! 
To donate to those who are in need of food, visit Feed America, The Hunger Project, Meals On Wheels America and Hands for Hunger, as well as any other meal/food distribution non-prof that you can think of and Happy Thanksgiving!