"Teachers" Returns With A Bang -- Literally! (Metaphorically)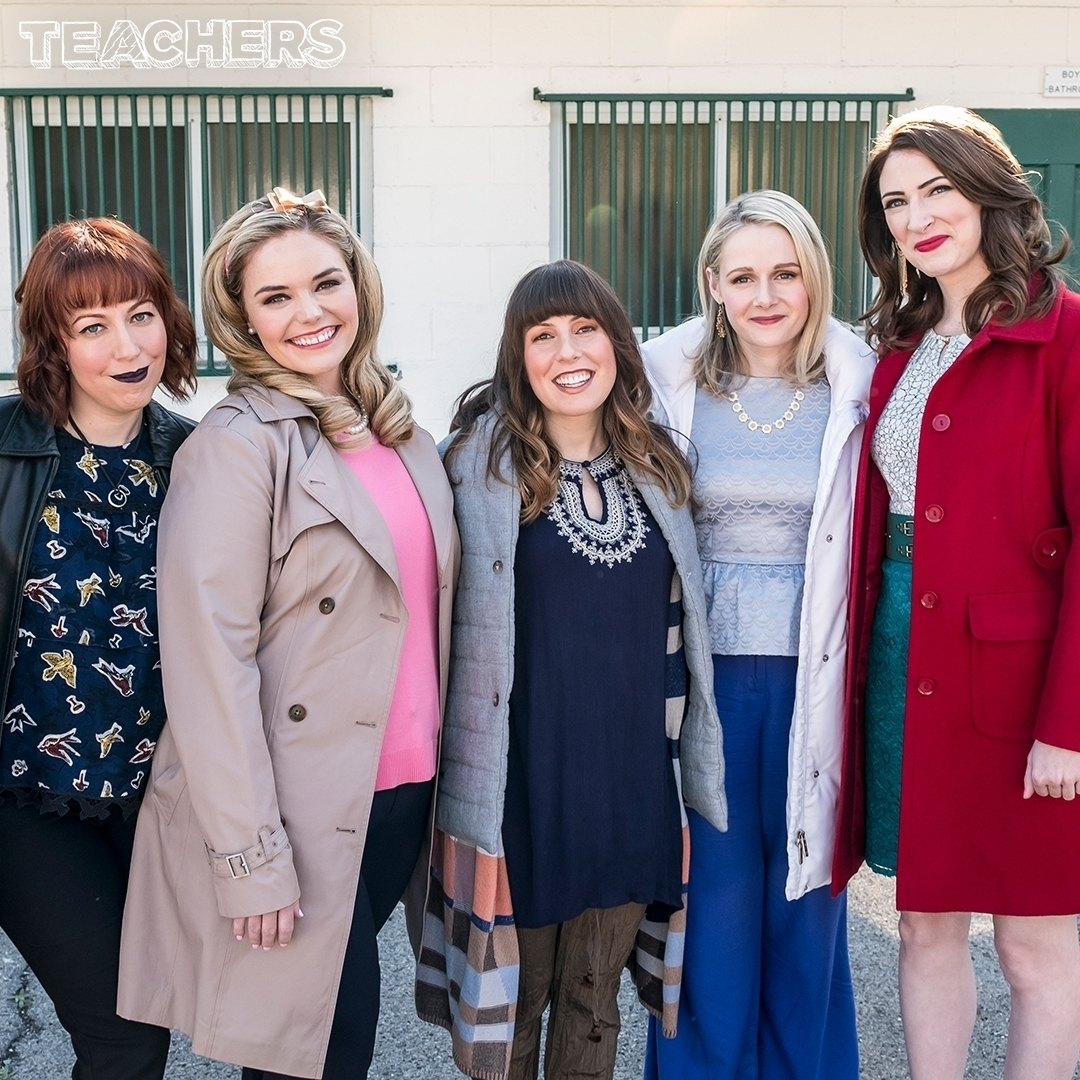 Fans everywhere were extra tuned in last night for the return of TVLand's hit comedy series, Teachers, which, as per usual, did not disappoint.
Despite the episode being both educational and funny, it marked the beginning of the end. After three seasons of laugh-out-loud, rolling on the floor, groundbreaking female comedy, the web series-turned-2016-TV comedy-smash-hit, is saying goodbye, but not without giving fans a few more hearty laughs.

The beginning of season three saw the departure of beloved character Ms. Feldman (Cate Freedman), but, fans did not have to wallow in sadness for long, as the rest of the season packed on the funny! In fact, the first half of the season ended with Hot Dad (Ryan Caltagirone) proposing to Ms. Bennigan (Katie O'Brien), after the ladies suspected him of being a serial killer, as well as Mrs. Adler (Kathryn Renée Thomas) giving birth to a baby girl (with husband Damien played by Haley Joel Osment). 

However, last night's ep, Season 3 Episode 11, which was appropriately entitled, "Thoughts and Bears", (a play on the overly-used phrase "Thoughts and Prayers"), started off with a bang -- literally (metaphorically), as the cast cleverly triggered the serious issue of gun violence in America through the use of a grizzly bear.

Of course, with my luck, I missed the first five minutes, thanks to my trusty remote control >.<, but, I luckily caught up online with no mishaps -- and it was even funnier the second time around!

According to Jim (2001) alum, Larry Joe Campbell, guest starred as Gary, a "responsible bear owner" who moves into a home literally across the street from Fillmore Elementary, with his wife and pet bear (Tag the Bear), who I must say, turned out to be a sweetie! -- but, I digress, LOL!

Reasonably uncomfortable, Ms. Bennigan informs Ms. Snap (Katy Colloton) and Ms. Cannon (Caitlin Barlow) that she will walk over to Gary to welcome him to the neighbourhood and politely ask if he could build a fence to prevent his pet bear, Chaucer, from escaping and entering the school's campus. However, what the ladies think would be a sensible, common ground conversation, turns into both a revelation and a reminder about lawful "bear ownership". 
Viewers gather "bear ownership" to be a metaphor for "gun ownership", which the writers and cast smartly wove into comedy gold, as the show continued to expose the hypocrisy and quite frankly, stupidity, of gun laws in the US.
Meanwhile, Caroline (Ms. Watson -- Kate Lambert) and Toby (Mr. Pearson -- Tim Bagley) provide comedic relief, as they are both called to Jury Duty where they are presented with the opportunity to hash out the real reason they broke up. With the convenient "help" of Caroline's ex-boyfriend Jacob (Jesse Bradford), she and Toby come to the conclusion that neither of them are to blame, but that the relationship may have simply needed to come to an end.
However, throughout the entire episode, was the running joke of Mrs. Adler, who returned to school two weeks ahead of the end of her scheduled maternity leave, just so she could get away from her newborn and husband, and be around her friends and other adults again. Seemingly suffering from post-partum depression, Mrs. Adler is enjoying the "Bear Attack Preparedness Training" Councilwoman Taylor (Molly Erdman) assigned them (if for whatever reason they are in need to defend themselves against a bear attack), as well as the free food, activities and conversation that came along with it. 
"Thoughts and Bears" revealed just how politicized gun control (or a lack thereof) is in America, and how gun laws seem to protect the gun owner more than non-gun owners.
The final season of Teachers will do what the series has always done; bring the funny, bring the friendship, and end with a twisted, yet necessary, lesson from the teachers of Fillmore Elementary School!
Cast: Caitlin Barlow, Katy Colloton, Kate Lambert, Katie O'Brien, Kathryn Renée Thomas, Tim Bagley, Ryan Caltagirone, Patricia Belcher
Created by: The Katydids
Airs: Tuesdays, 10:00p.m. ET (TVLand)