A Review of NBC's: Abby's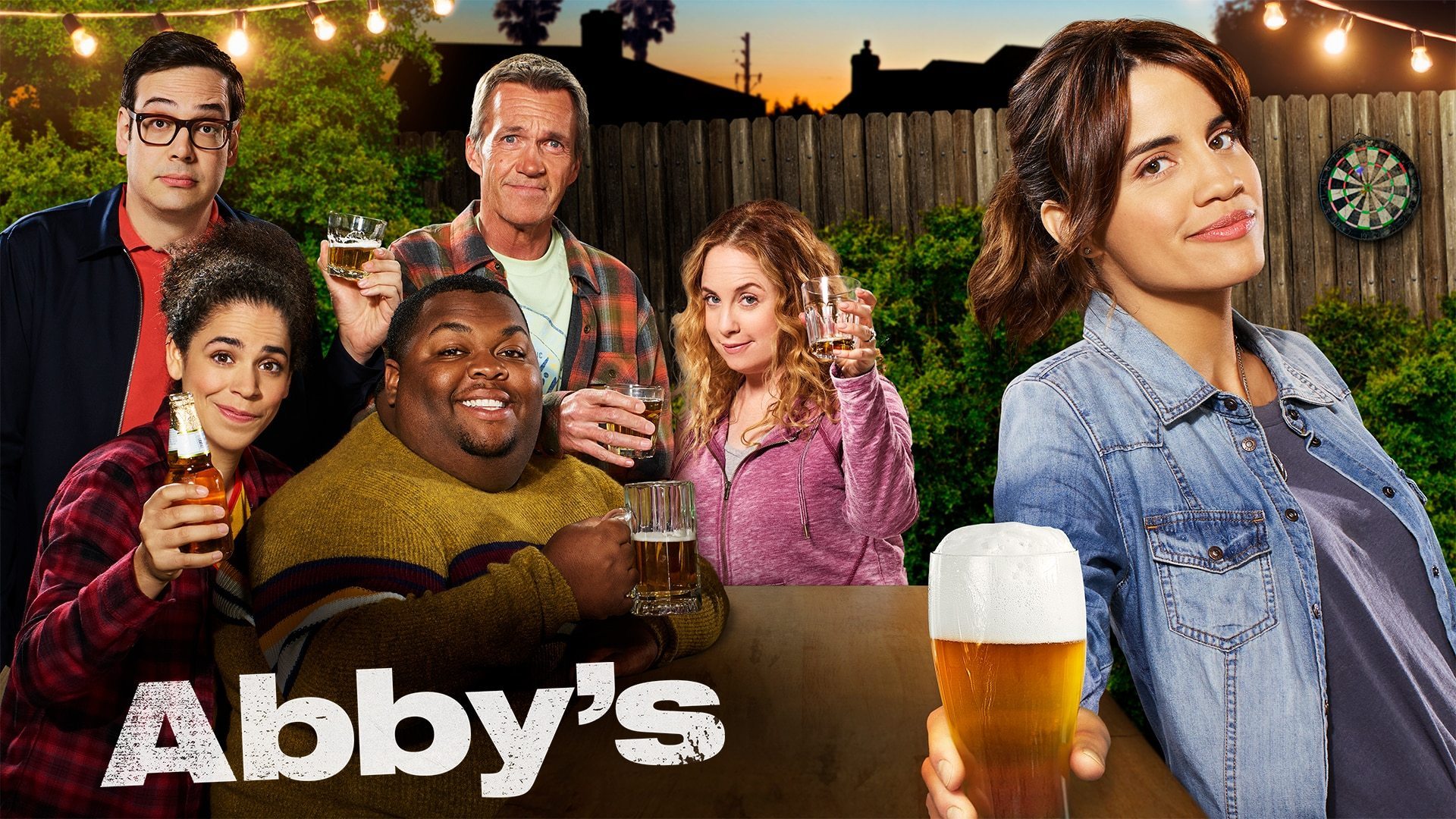 We are almost four episodes into NBC Comedy Thursday's new show Abby's, which premiered March 28, but it's not exactly living up to the hype.  
Viewers are introduced to Abby (played by White Collar's Natalie Morales), a former Marine Sergeant who happens to be bisexual, who has transformed her backyard into an open (unlicensed) bar where she hangs out with friends and regular customers. 

Among these friends are Fred (played by The Middle's Neil Flynn), an alcoholic and old friend of Abby's father; Beth (played by Zoey 101's Jessica Chaffin), a housewife who also lives next door to Abby; Rosie (played by Unicorn Store's Kimia Behpoornia), Abby's loyal bar-back; and James (played by Wild 'N Out's Leonard Ouzts), Abby's "bouncer". 
In the pilot episode, Abby meets her new landlord Bill (played by New Girl's Nelson Franklin) who has come to shut down the bar. Bill is a stickler for law & order and seems to really be on the verge of shutting everything down, until Abby's friends sing her praises and tell Bill just what the bar does for everyone. After offering him a coveted seat at the bar, Bill grows comfortable and shares one too many details about his divorce and personal life. However, despite the show's funny cast members, it still feels like something's lacking.
While I am glad to see Morales in a leading role, as I am only familiar with her supporting work on Fox's The Grinder (2015) and NBC's Parks and Recreation (2009), I don't think Abby's shows her in her best light. I loved Morales' semi-deadpan and sarcastic wit on The Grinder and Parks and Rec, and it worked there, but on Abby's she seems to come across as one-dimensional and irritable. This may be due to Abby being affected by PTSD, however, this possibility has not yet been mentioned.  
As for the rest of the cast, they are all funny in their own ways, but I'm not sure if each of their comedy styles matches one another's for Abby's. For example, an actor such as Neil Flynn who is grossly known for his role on The Middle, is suddenly a guy who wants to socialize with friends? Every night? I mean, yes, to be fair, he is no longer "Mike Heck", but separating him from the character is indeed a difficult feat for long-time viewers. 
Then there's Jessica Chaffin who plays Beth. I am only familiar with Chaffin as Coco on Nickelodeon's Zoey 101 (2005), and she was funny then and still funny now. So far, Beth seems to be the only character with depth, which was seen in the third episode "Free Alcohol Day". In that episode, Beth gets upset when she finds out that Abby didn't tell her that she used to date the woman who brings them their free alcohol every year. Beth feels betrayed because she thought she and Abby were close enough for Abby to tell her things like that. 
Nelson Franklin who plays Bill is always funny no matter what role he's in, although I am mostly familiar with him on The Office (2005) and Veep (2012). In fact, Franklin and Ouzts are the funniest on the show to me, with their zingers, perfect comedic timing, mannerisms, charisma and ingenuity. 
With fellow network power houses A.P. Bio, Brooklyn Nine-Nine, Superstore and long-time royalty Will & Grace, who has since made a revival and is even funnier now than ever, Abby's is not yet on par. And, with viewership decreasing with each episode, from 2.6 million to 1.6 million from the first to the third episode, the future of the show is unpredictable. 
I'm rooting for Abby's. Sometimes, some of the funniest shows start off a little rough and find their way down the line. I'm hoping Abby's is one of those shows. 
I would hate to see the show get cancelled after just the first season because it has a very unique concept and a lot of potential, but there has to be more to draw the audience in than just Abby and her five friends hanging out at a bar. There's no mystery, no flow; things and ideas just seem sporadic and off-beat. There hasn't been anything so far that audiences want to know about any of the characters, not even last week about Abby's personal life. It really doesn't leave audiences wanting more. 
I'm no Hollywood Exec and I don't want to see anyone lose their show. I'm just a woman with a blog who has her own likes and dislikes, and so far, I like Franklin (Bill) and Ouzts (James), they're great on the show, and Chaffin's Beth seems to be getting somewhere too, so I'm hoping there's more in store for viewers before the end of the season!
Cast: Natalie Morales, Neil Flynn, Jessica Chaffin, Kimia Behpoornia, Leonard Ouzts, Nelson Franklin
Created by: Josh Malmuth
Airs: Thursdays, 9:30/8:30c (NBC)